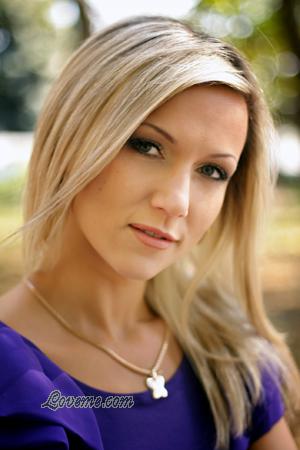 141903
Alina
Ukraine
City: Poltava
Age: 32
Birth Date: 1/12/1981
Weight: 112lb, 51kg
Height: 5'5", 165cm
Measurements: 0-0-0
Measurements cm:
Eye Color: Gray
Hair Color: Blonde
Marital Status: Divorced
Children: 1
Religion: Christian
Smoker: N
Drinker: S
Education: University
Company: Private
Job Title: Manager
Sports: Fitness
Hobbies: Flowers, plants, walking, nature, travelling, cooking


Self Description: I am not a great expert in self advertising and self presentations. My close people usually say I am very cheerful, active and dynamic person, full of energy and good ideas. I follow positive life concept and I believe that positive view on things helps us to overcome difficulties. I am hard working and very purposeful lady, usually I am oriented to the highest result I could only get. I canít stand false and hypocrisy, no dramas, please. Life is too short to waste it for bad relationships and wrong people. You know, each of us is usually considered to be very particular and unique person and it depends only on the meaning you usually find in these words. To be mostly objective I should say that I could hardly demonstrate any outstanding talents or skills. I believe that life is in the smallest details and we need to see and to open that simple way to be happy. I usually devote to my son, he is the main essence of my life.

Comments: I have heard many romantic stories about true love and with amazing happy ends and I wonder why all that fairy tales usually happen in others lives and never in mine? Possibly I should realize my dream more definitely and clearly for myself? I donít feel like being too naïve but I still believe in true love and faithful relationship, I respect strong family values and my concept of happiness is really simple. I dream to meet that very man who will be my stable partner, caring friend and passionate lover. I hope he will be loyal, responsible and strong enough to support me and us. No I am not looking for perfect one because nobody is perfect and me too. I donít have any extraordinary expectations about my man. How could I know that he is mine person? It is very easy. When you get that particular feeling of peace and harmony, like you finally come to the end of your long trip and find your sweet home place, just know, this person is yours.