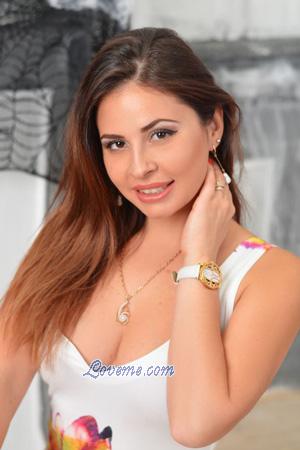 ID: 176126
Olga
Ukraine
City:
Dnepropetrovsk
Age:
30
Zodiac:
Sagittarius
,
Rabbit
Weight:
130lb, 59kg
Height:
5'5", 165cm
Eye Color:
Brown
Hair Color:
Brown
Marital Status:
Divorced
Children:
None
Religion:
Christian
Smoker:
No
Drinker:
Socially
Education:
College
Company:
Private
Job Title:
Hairdresser
Sports:
Bicycling
Hobbies:
Reading, literature, theaters, cinema
English:
good
Languages:
Russian (excellent),Ukrainian (native)
Self Description: I am charismatic, cheerful, generous, attentive, caring, friendly, helpful, intelligent, well-mannered and completely sincere person and honesty is always on the first place for me in communication. To my mind harsh reality is always better than false hope, so I donít admit lie and always tell the truth even in difficult situations. Because of my openness and realistic acceptance of reality, I have only few, but true friends and my favorite job. I am a lady who never stops self-development and if in a few years I will want to change the profession or learn any foreign language I will do it easily and with a big pleasure. If you look into my eyes, you may notice the strength of my soul and very powerful energetic in them, but at the same time I can be very weak and tender and you will be able to see it only if you decide to conquer my heart! Would you like to have a try?
Comments: It is said that mostly women prefer bad boys, but actually, it is not about me. I am looking here for a serious, smart, well-educated, self-sufficient, successful and determined man who is ready to create a family, become a caring husband and father and be able to take responsibility of prosperity and happiness of people who he loves. He should be realistic by nature as I am, have many ideas and plans for future, but at the same time know many ways how to achieve them. I can imagine only sociable, cheerful and courage person near me, who is not afraid to express his mind concerning different questions and who is able to make perfect jokes and defuse even tense situation. He should be a leader and example for his children, friends and me. I want to feel very confident near him and be sure that tomorrow he will make me even happier than today. I am ready for new love story now, my heart is not hurting anymore, so if you are a kind of man who I described before let me! please to feel love again!