Valentines Day Gift Ideas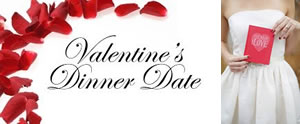 Valentine's Day is upon us! The year's most romantic holiday is fast approaching. Are you ready? If you've got your eye on a particular foreign girl, you may be wondering what kind of gift or romantic gesture would be appropriate in her culture. International Dating Expert Bud Patterson offers 3 Great Valentines Gift Ideas for Any Foreign Girl. These gift ideas are definitely "out of the box," but your girl will love them.
Don't miss Bud's weekly Monday evening conference calls when you can talk to the world's international dating experts. This is an open discussion on international dating.
Also, AFA now offers a Latin Q and A session each Tuesday night. Join us, and have all your Latin bride questions answered Both calls start at 9:30 PM EST. Just dial 1-(209) 689-0007 and, when prompted, enter pass code 103766. Once you've joined the conference, press 5 * to join the conversation!
---
3 Great Valentines Gift Ideas For Any Foreign Girl
So, first let me just say - YES - foreign girls are very aware of Valentines Day even in countries where it's not formally celebrated. And - YES - she's secretly hoping you remember her on February 14th whether she drops a hint or not. Seriously, what guy wants to miss a chance to show his appreciation for his girl or someone he just simply wants to impress? We love to be romantic, we love to make her smile, and we want to show our thoughtfulness in return for her love and surrender.
One thing for sure, if you want to find, court, fall in love with and ultimately marry an international girl you have to welcome the chase. Giving thoughtful gifts is just another part of the chase. And yet, sending a gift you can't deliver in person adds an element of challenge as we wonder what cultural expectations might impact our effectiveness. Here are 3 Great Valentines Gift Ideas for any Foreign Girl:
1. Her Favorite Flowers. So, obviously flowers are always a good idea. Here, the question is not so much to give flowers or not but which flowers and how many. Most guys will default to red roses and there's not much wrong with that. Roses in Ukraine, for example, are so huge and long-stemmed; you'd wonder if they're grown in the Chernobyl region. (More than likely, they're imported from Russia, but in any case they are large and lovely.) Take the time to ask her favorite color and favorite flower. She might surprise you. Lilies are very common, as are Lisianthus, or Chinese Roses. Lately, large, bountiful and very colorful varieties of Lisianthus have become popular in Europe on romantic occasions - so take that into consideration. If you decide on roses, definitely go long-stem and GIVE ODD NUMBERS such as 9 or 11 or 13. In some countries, even numbered bouquets are reserved for somber events, like funerals.

2. English Lessons. In the international dating realm, girls will likely not speak English right away unless they're from the Philippines. Girls from China, Ukraine and Latin America may know some English but may not yet speak fluently. If you are going to get engaged and married to a foreign girl, leading to her coming to America to live with you forever, her BIGGEST fear will be not being able to understand others or be understood. This is particularly true of women from Ukraine who pride themselves on speaking languages very naturally. Purchasing very affordable English lessons for your girl will show her how serious you are about your potential future and give her a head start that will pay dividends later on when you visit her and the two of you want to be together without an interpreter.

3. A Beauty Spa Gift Card for Two. Foreign girls love to have their nails professionally done. Many beauty spas will cut hair, do nails, facial wraps, even massage all in one location. Give your girl an afternoon at the spa with her mom, or sister or best friend. She will be happy to not go alone, and spa treatments in many countries like Ukraine and The Philippines are very affordable. She'll be pampered and she'll love the end result and feel beautiful for you. Obviously, there are many ideas and probably no seriously bad ideas as long as you don't blow off Valentines Day altogether. BAD IDEA! Remember, if you blow Valentines Day and she doesn't give up on you, you're going to be reminded of that for a whole year until next time. Be creative, be determined, be timely (because so many guys wait until the last minute thus risking complete failure,) and be thoughtful as you show her your true potential for love and partnership.